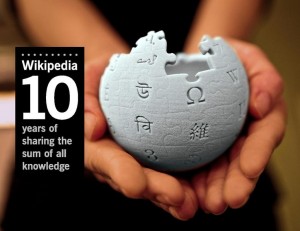 Happy Birthday Wikipedia! The free online collaborative encyclopedia turns 10 years old today.
In online years Wikipedia would be considered a senior citizen, a most commendable feat, but I hope to see them around for much longer. I suspect they will because there are an endless amount of people out there who can't help but share their knowledge (>17 million articles in 271 languages with 3.5 million alone in the English edition) and there are even more who want to consume this knowledge (408 million monthly viewers a month). Think about how many times you've read a Wikipedia entry and of the millions of lazy students scouring the world wide web lol.
Wikipedia's name comes from the Hawaiian word wiki which means "quick" and the word encyclopedia. It was founded by Jimmy Wales and Larry Sanger in 2001 and has grown to be the 5th largest website on the internet! Amazing considering it's a non-profit operating on donations. The non-profit model was integral for Wikipedia to remain focused and neutral in their mission "to empower and engage people around the world to collect and develop educational content under a free license or in the public domain, and to disseminate it effectively and globally".
An office will open in India in the coming months, their first outside of the United States. Future plans for Wikipedia include offices in other countries, increasing the diversity of voices on the site (i.e. more women, less represented cultural groups, older people) and the breadth of topics, increasing readers to 1 billion per month and more ambitious, to reach every language on Earth.
Wikipedia just finished their 2010 fund raising campaign and raised $16 million from 500,000 people from 140 countries with $13.7 million of that coming from online donations – almost double the $7.5 million raised in 2009 from 230,000 donors.
There are over 400 events around the world celebrating Wikipedia's 10th birthday. Not online but in person! Another comforting sign that Wikipedia will be around a long time.
You can join today's meetup for Vancouver area Wikipedians and West-Coast Wikipedians at Benny's Bagel – 2505 W Broadway at 6:30 PM.