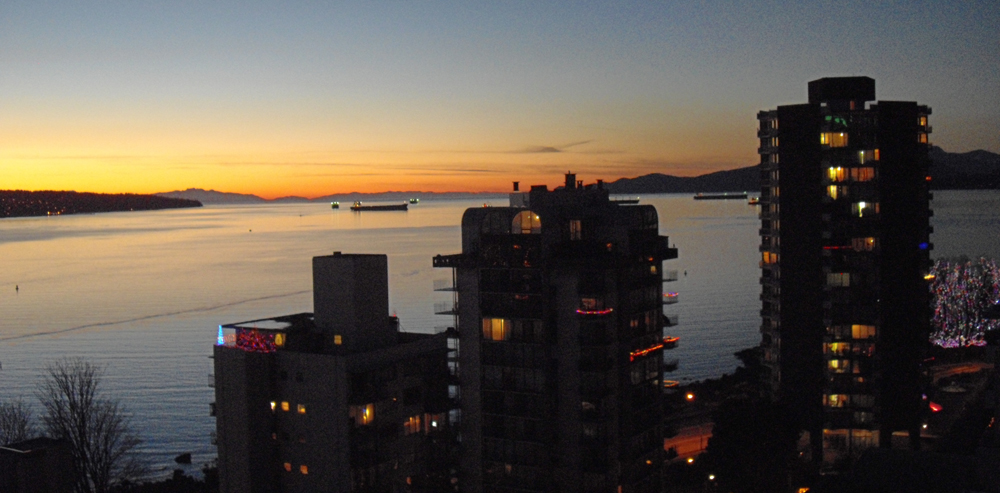 Where did the year go? It's been a long time since my last post and I want to squeeze in one last one before 2010 is over! I started this blog with all sorts of grand ideas and as you can see I got waaay waylayed. It's been a year of patience, learning and reflection. Okay, maybe more dreaming than reflecting…
Whenever I'm at my computer looking out the window of my apartment, perched high up in the Westend of Vancouver, my breath is taken away by the spectacular view of English Bay. It doesn't matter what the weather, how often I see it or if it's even only a glimpse out of the corner of my eye I am absolutely stunned by it's beauty. As an example, today was one of those rare clear days where I could see the snow capped peaks on Vancouver Island. Really, I can and no, it is not Bowen Island! Yes, I am blessed to live where I do.
In closing the year I want to show you below something shiney and sparkly that always distracts me when it's on – besides Facebook lol

Every evening in December my view is even more spectacular due to one of Vancouver's best kept secrets – the Elm Grove Christmas light display at Bidwell Street and Beach Avenue in the Westend. These six stately elms are illuminated on December 1st each year to commemorate World AIDS Day and is lit daily through to the first week of January. The illumination of the grove was an envisionment of former Park Board Commissioner George Wainborn, the longest serving Park Commissioner in Park Board history.
This amazing cloud of colour can also be seen from across the water at Vanier Park, Kits Beach or Spanish Banks. Walkers and drivers can literally pass under branches 'dripping' with colour which always bring out a childlike giddiness in everyone. Enjoy and Happy New Year!
*As a side: This year they were strung with over 12,000 energy efficient SLED lights (Seasonal Low Emitting Diodes). The introduction to LEDs in 2007 reduced holiday season consumption from the former 20,400 kWh with incandescent strings on the six elm trees to just 2,650 kWh. Yay!