I've made these Coconut Vanilla Clusters from one of my favorite blogs iheartwellness.com a few times now and they are simply amazing and yet incredibly healthy! So much so that I had to share them with you. Okay, not the actual treats lol but the experience – unless you're lucky enough to be over at my place when I make another batch. Oh and I promise you, I will!
Originally I wasn't going to put any food posts here because I was saving it all for a dedicated food blog which has yet to materialize. I resolve to get organized and make that happen sometime this year. So until then, you the readers of the Unscripted Mind, get to preview some of my epicurean muses!
First, let's back up a little so I can give you a bit of background on my food lifestyle. I have loved food since I was a little kid and started cooking on my own when I was 10 years young. My love for food comes by honestly. You see, my dad immigrated to Canada, and like many other Chinese immigrants at the time, opened up a Chinese restaurant in the 60's. I love all ethnicity of foods and am constantly searching out new epicurean delights. I'm not vegetarian nor do I have food allergies (hooray) but I am into health and fitness and thus, try to incorporate healthy eating into my lifestyle.
So what about those tantillizing little clusters you ask… They are fantastic for when you need a chocolate fix, after a workout when you need a hit of energy or anytime you want an indulgence. I want to emphasize how healthy, amazingly tasty and simple these are – you'd never know they are low in sugar (ocurring in the chocolate), full of protein, vegan, nut and gluten free and this is a very kid friendly recipe too. Heck, make double or triple batches! I hope you enjoy these as much as I do!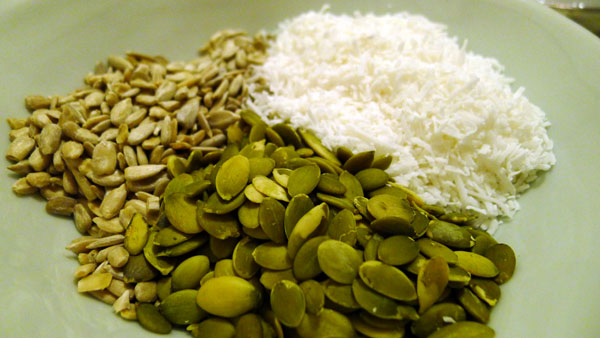 Coconut Vanilla Clusters

I've modified the original recipe ever so slightly for my preferences – there's only a few ingredients after all ;o) If you don't have agave nectar, try some honey or hey, even maple syrup. This is such a versatile recipe you can get creative with so many different ingredients too. Try adding a little bit of flax or hemp seeds, chopped cranberries or raisins. The sky's the limit!

Makes 6

Ingredients:
2 tbsp pumpkin seeds
2 tbsp sunflower seeds
3 tbsp unsweetened coconut
2 tsp coconut oil (heaping)
1/2 tsp agave nectar
1/2 tsp vanilla
1/4 cup dark chocolate chips – melted

Instructions:
1. Mix all seeds, coconut, coconut oil, agave nectar and vanilla in a bowl.

2. Drop into slightly rounded tablespoon size clusters on a parchment lined sheet or little baking cups. Place in the freezer for 20 minutes.

3. While the clusters are in the freezer, melt the chocolate chips in a little dish in the microwave.

4. Coat each cluster with a dab of melted chocolate and place back in the freezer to harden.

5. Serve and enjoy!